Roald Dahl Day (13 Sep) is an annual celebration of the British author's marvellous stories from Matilda to Charlie and The Chocolate Factory. Read on to discover some of the Dahl-themed activities you can get up to when visiting London
Born in Wales in 1916 to Norwegian parents, Roald Dahl is one of, if not the greatest children's storytellers of modern times. Some of his most famous stories include Matilda, James and the Giant Peach and Charlie and the Chocolate Factory. Do you know your snozzcumbers from your snozzberries? As well as incredible fantasy worlds and some of children's most favoured characters, he also invented more than 250 words which are all part of the Dahl magic.
Meet your favourite characters
Everyone has a favourite of Roald Dahl's stories. Perhaps you and your family have a particular love for Esio Trot – pay a visit to ZSL London Zoo's resident Galapagos tortoises, Dolly, Polly and Priscilla (Please note: Giants of the Galápagos will be closed until 19 Sep). While you're here, befriend one of the resident giraffes like Billy did in The Giraffe and the Pelly and Me, and stop by the new Money Valley zone. Meet the final part of the trio at St James's Park in Westminster – the famous pelicans can often be found basking on the rocks.
Just the place to celebrate on Roald Dahl Day, Discover Children's Story Centre in Stratford, East London, is perfect for children aged 0-11 (and their grown-ups). From performing in a puppet castle to sliding down a monster's tongue, it's the perfect place to ignite their imaginations and a love for stories.
Lovers of Matilda will likely be aware of the West End's hit Matilda the Musical, soon to be released as a feature-length film. See some of the best young performers around bring the childhood favourite to life on stage, or see if you can snag a ticket to the film premiere at BFI London Film Festival.
Pause to refuel at One Aldwych between your adventures. Fizzy lifting drinks, snozzberry jam, chocolate milkshakes mixed by waterfall… Indulge your inner child and tuck into the magical, mouth-watering world of Charlie and the Chocolate Factory with this enchanting afternoon tea. Feast on scrumptious savouries such as the not-quite-as-it-seems salmon and beetroot macaron and juicy roast beef and horseradish. Next comes a box stacked high with wondrous cakes, sweets, mallows and creams. Wash it all down with chocolate or lemon sherbet tea, juicing room mix or water pistol punch cocktails, or fizzy lifting Champagne.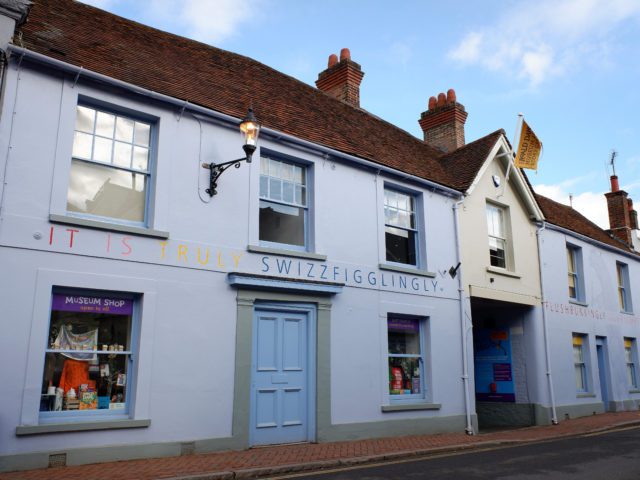 The Roald Dahl Museum and Story Centre © Shutterstock
Heading further afield, though only a matter of hours from London, the surrounding counties of Buckinghamshire, Oxfordshire and Kent offer plenty more themed fun. The Roald Dahl Museum and Story Centre can be found in the quaint village of Great Missenden, reachable within 90 minutes from London Marylebone. The author lived and wrote in the village for almost four decades before he died. At the museum, pull a power pose next to Matilda, measure yourself against the BFG and come face-to-face with Fantastic Mr Fox. There are more than 40 hands-on activities in the galleries and you can even take a peep into Dahl's famous Writing Hut. Don't miss the craft room or the guided walks around the local village and surrounding countryside. Afterwards, walk down the road a little to pay your respects at Roald Dahl's Grave at Saints Peter and Paul Cemetery.
Hop back on the train at Great Missenden and head to Aylesbury. In just 25 minutes you can find the Discover Bucks Museum, home to the Roald Dahl Children's Gallery. It's like walking into an enormous pop-up book. Travel in the Great Glass Elevator between the museum floors. Pre-schoolers visiting on 13 September are encouraged to visit dressed as their favourite Roald Dahl character. Enjoy a fun-filled day with activities available from 10am-3pm.
Elsewhere, in Kent, a big friendly giant is stopping at Knole Park. Opening on 13 October, The BFG in Pictures, is a touring exhibition from Quentin Blake Centre for Illustration. See reproductions of Quentin Blake's original illustrations for Roald Dahl's much-loved story The BFG, including illustrations not used when the book was first published in 1982.
The illustrations on display chart the development of one of the most iconic characters in children's literature and a glimpse of a BFG that might have been. You can also see reproductions of the final illustrations for the book, providing a fascinating insight into the collaboration between the author and illustrator. Can't wait until October? Spend an evening watching the fantastic 2016 film in historic surroundings on 24 September.
Please like, share and comment below and see if we have anything else to inspire your next visit to London.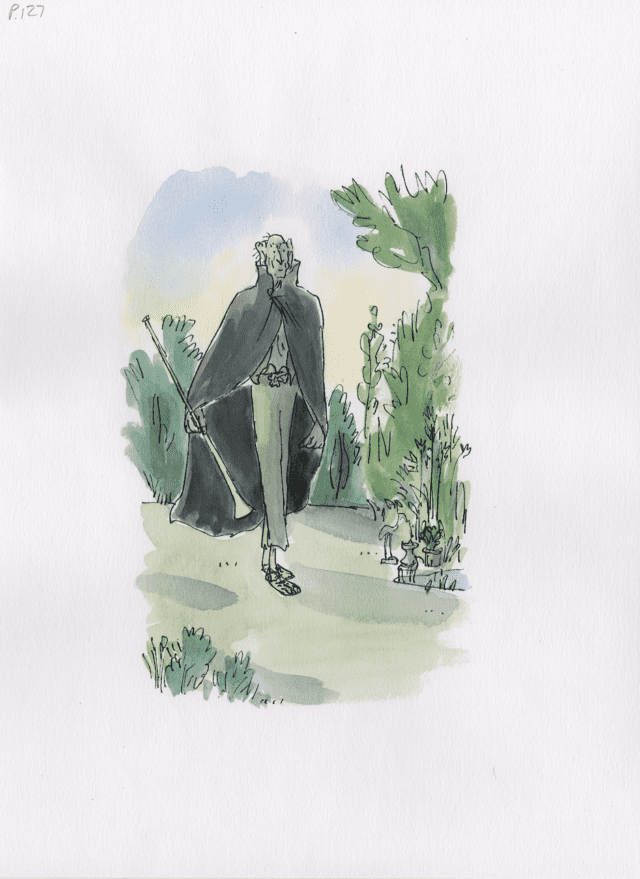 The BFG in Buckingham Palace Garden from The BFG colour edition Puffin Books 2015 © QuentinBlake