As the nights draw in and the temperature drops, festivities arrive to keep visitors entertained in weird and wonderful ways. Find out what's on in London in November and plan your next visit
World Vegan Day (1 Nov)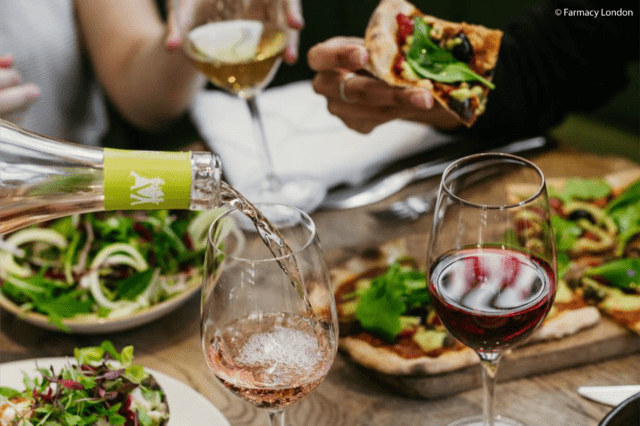 Not specific to London, World Vegan Day is the annual celebration of the plant-based diet and lifestyle. Whether you're vegan or fancy trying something new, take a look at the best vegan-friendly restaurants in London and see if something piques your interest.
Hogarth and Europe (from 3 Nov)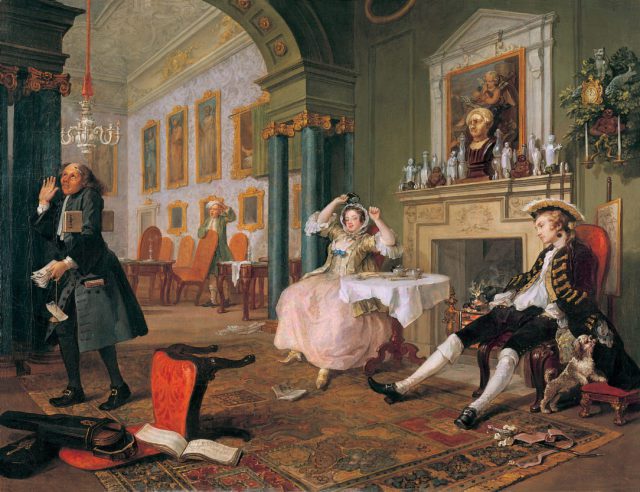 Hogarth and Europe at Tate Britain (from 3 Nov) puts one of the most significant British artists of the 18th century under the spotlight. Working during a time of dramatic societal and cultural change across Europe, William Hogarth became famous for paintings and prints that captured the new modern experience. For the first time, this exhibition brings together Hogarth's greatest works with those of his peers across the continent.
Purcell Sessions, Southbank Centre (throughout Nov)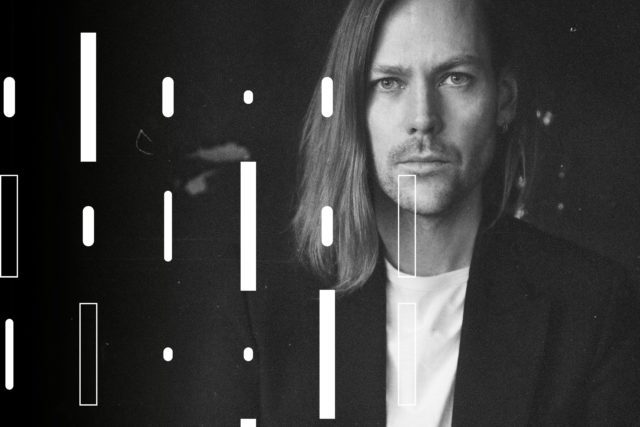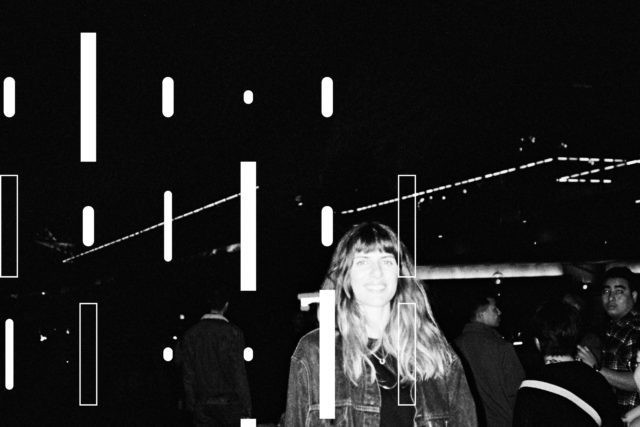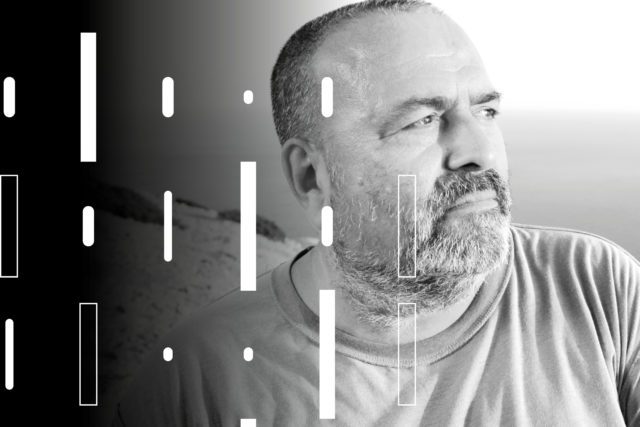 In a new year-round series, artists come together to create and play in the intimate setting of the Purcell Room at Queen Elizabeth Hall. Purcell Sessions gives creators the freedom to push boundaries and forge connections across art forms – and you're invited to see the unexpected happen. This month, watch the likes of Robert Ames – the curator, composer and conductor – perform the beautiful sonic landscapes of his latest album, Change Ringing (4-5 Nov). Experimental composer Laurel Halo teams up with the London Contemporary Orchestra to find new ground for her upcoming music (11 Nov), and Gigi Masin will present his new album, Calypso (26-27 Nov). Find out more.
London Grads Now.21, Saatchi Gallery (from 4 Nov)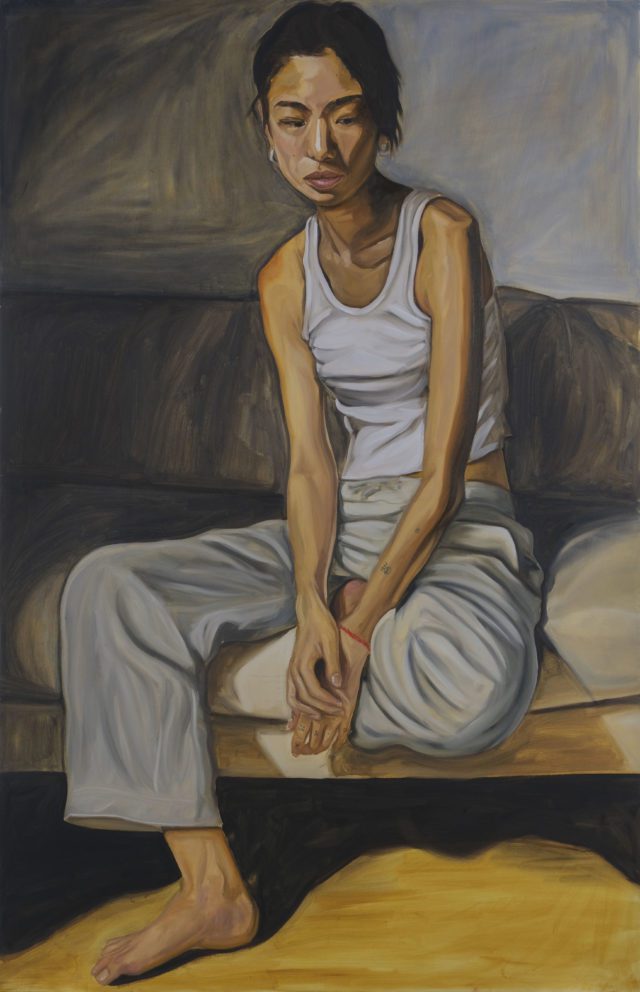 Initially conceived in 2020 as a response to the unprecedented cancellation of degree shows around the capital, Saatchi Gallery's graduate-focused show highlights emerging artists of today and features fresh work from over 200 MA graduates of seven leading London art schools, all under one roof. Discover the newest emerging works, spanning moving image, assemblage, installation, performance, painting, sculpture, photography, and drawing. Curators have selected artworks focusing on themes including environmentalism, gender identity, post-pandemic reflections, UK racial politics as well as explorations of the human psyche.
Guy Fawkes Night (5 Nov)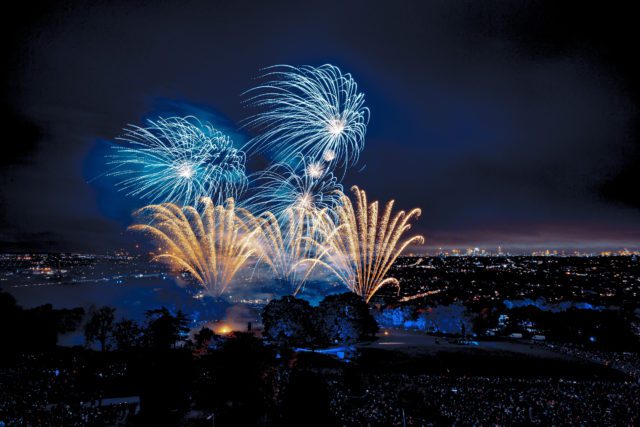 Every year, skies around the UK sparkle on Guy Fawkes Night, also known as Fireworks Night. It's quite an unusual annual celebration of Guy Fawkes and the Gunpowder Plotters' failed attempt to murder King James I and others at the House of Lords in 1605. Find out the best places to watch fireworks and enjoy celebrations including funfairs, across London this year.
Set behind the iconic Selfridges store on Oxford Street, the Christmas Market on the Mews returns for a second year (5 Nov-23 Dec). It's bigger and brighter than ever before; the whole of Edwards Mews will be transformed. Expect sustainably grown Christmas trees, perfect festive gifts, an impressive Helter Skelter, performances from Santa and his friends and much more. It's the perfect way to while away a wintry afternoon or evening. Of course, the instore Christmas Shop is already open and offers dreamlike delights.
Christmas Past, Museum of the Home (from 9 Nov)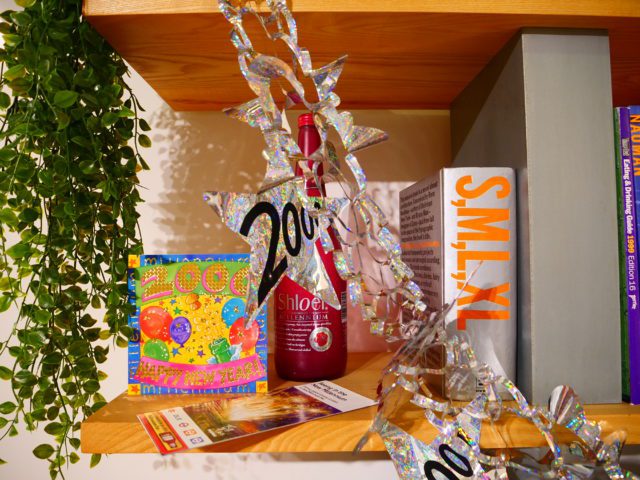 From 9 November, the popular Christmas exhibition returns to the Museum of Home. The Rooms Through Time will be dressed to show how festive events have been celebrated in homes over the past 400 years. From the Midwinter festival to Christmas and the Millenium party, explore how and why homes were decorated and events celebrated. Find out where Boxing Day got its name from and why the Christmas tree first appeared in our homes. There will also be a rainbow of Christmas colour across the Museum site and a number of workshops and events to celebrate Christmas.
Marylebone Village Lights and Shopping Event (10 Nov)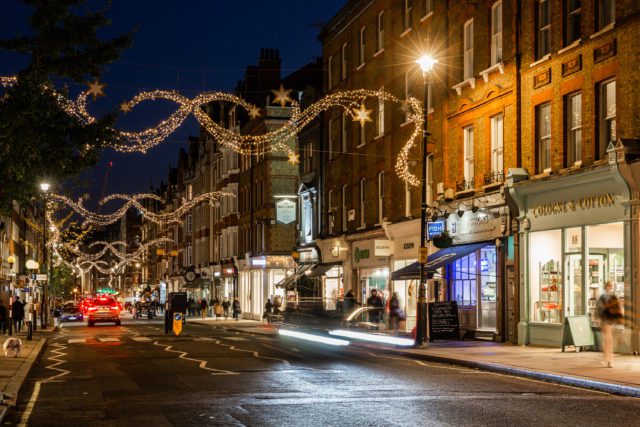 Celebrate the beginning of the festive season in Marylebone Village with the switch-on of the spectacular Christmas lights (10 Nov). The party doesn't stop there – enjoy free, festive activities and live music performances too. Between 3-7pm, you can take part in wreath-making workshops and visit Santa's Grotto with youngsters. Plus, over 50 local shops, cafés, bars and restaurants – including Paul Smith, Ottolenghi, 108 Brasserie and The Conran Shop – will be offering exclusive discounts, offers, festive experiences and specially crafted menus, available for one day only. The stage returns to Devonshire Street and is hosted by legendary BBC broadcaster and local resident, Jo Good, with classic Christmas hits. Find out more.
Peru: A Journey in Time, British Museum (from 11 Nov)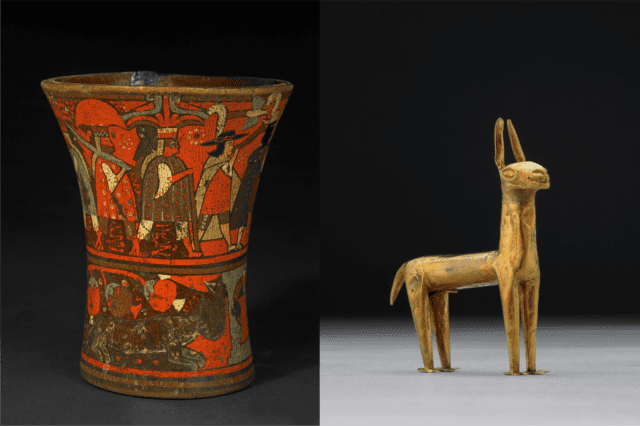 Marking 200 years of Peru's independence, the British Museum's exhibition highlights the history, beliefs and cultural achievements of the different peoples who lived here from around 2500 BC to the arrival of Europeans in the 1500s. Step into the vibrant world of Peru and discover how people have thrived for millennia in one of the most complex and challenging environments on the planet. From Peru's early indigenous peoples to the ill-fated Inca, discover how past cultures were shaped by the diverse landscapes of the central Andes, flourishing at some of the highest altitudes and in some of the driest deserts on earth. Discover ceramics, precious metals, textiles and ritual paraphernalia, and striking, large-scale photography and videos of iconic sites, including the Nasca geoglyphs and Machu Picchu.
Moulin Rouge! The Musical, Piccadilly Theatre (from 12 Nov)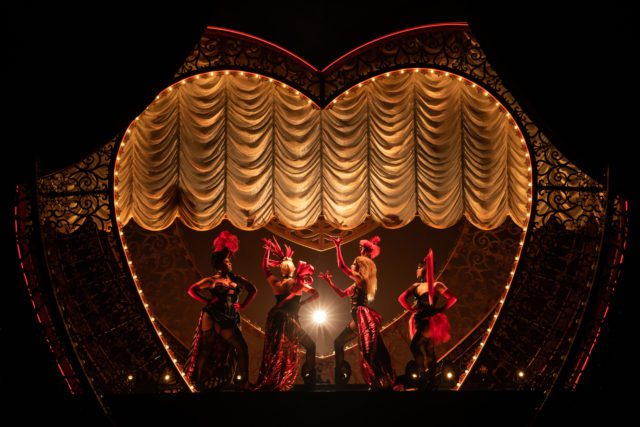 Set in Paris in 1899, Moulin Rouge! The Musical is the story of a lovesick American writer, Christian, and Satine, the dazzling star of the Moulin Rouge nightclub. When their lives collide, they fall hopelessly in love, only to be thwarted by the nightclub's host and impresario, Harold Zidler, and the wealthy and entitled patron, The Duke of Monroth. Baz Luhrmann's iconic film comes to life on-stage at the Piccadilly Theatre, in a new musical mash-up extravaganza. Enter a world of passionate romance and eye-popping splendour; a place where Bohemians and aristocrats revel together in electrifying enchantment; a place where all your wildest dreams come true!
Time Out Silent Disco, The View From The Shard (13 & 27 Nov)
Party at The View From The Shard's popular Silent Discos in association with Time Out London (13 & 27 Nov). Grab a drink from the bar, pop on a set of headphones and dance the night away at incredible heights! Pick your channel and choose your side as three DJs battle it out over separate wireless channels playing the best in pop, rock and party classics, whilst you admire the sweeping panoramas of London at your feet. Find out more.
Hogwarts in the Snow, Warner Bros. Studio Tour London (from 12 Nov)
Get into the festive spirit as Warner Bros. Studio Tour London's annual Hogwarts in the Snow returns! For the very first time, the trees and woodland in the Forbidden Forest will be given a festive makeover, draped in layers of filmmaking snow. The cobbled stones and magical shop fronts of Diagon Alley, Hagrid's Hut and the Hogwarts castle model will also be transformed. Once again, the Great Hall will be dressed for the occasion with wreaths, garlands and trees topped with witches on miniature broomsticks. The long dining tables will be dressed as they were for the seasonal feast in Harry Potter and the Philosopher's Stone, complete with SFX flaming Christmas puddings and prop versions of the mouth-watering feast.
Meet Father Christmas at the National Gallery (from 13 Nov)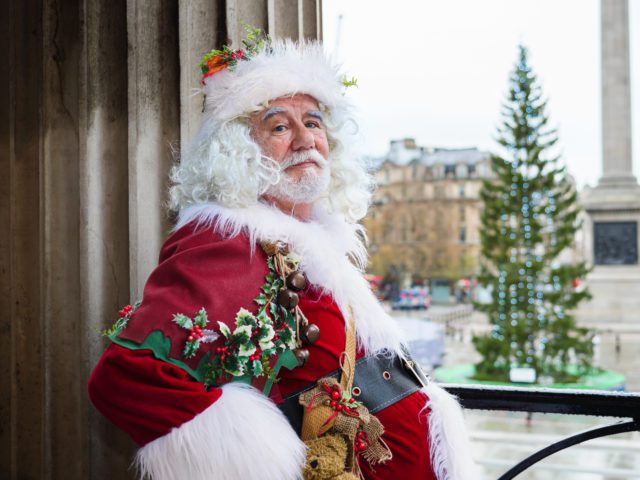 Visit Father Christmas in spectacular surroundings at the National Gallery, Trafalgar Square. Kids can earn their honorary Elf badge by making magical snowflakes which will be displayed on a shimmering ice wall! Then, settle into the wintry forest to hear an Elven Story and learn about the care of magical creatures. Listen well and remember the spell to earn a little pouch of reindeer food to leave out on Christmas night. As you come to the end of your journey through the forest, bring your token to the Elven Sorting Office. The Elves will be busy looking to see which special gift has been chosen for your little ones to take home. A perfect family outing!
A Christmas Carol, The Old Vic (from 13 Nov)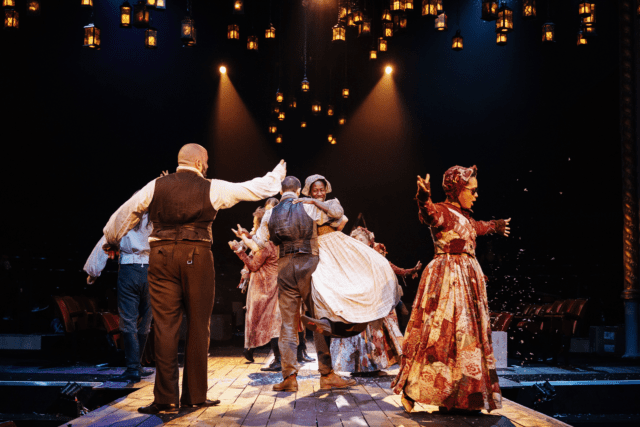 A Christmas Carol is Matthew Warchus' big-hearted, smash-hit production of Charles Dickens's immortal classic. Returning to The Old Vic, it's been joyously adapted for the stage by Jack Thorne, filling the auditorium to the brim with music and merriment. A unique staging immerses the audience in this uplifting story. Actor, comedian, presenter and writer Stephen Mangan stars as Ebeneezer Scrooge.
Remembrance Sunday (14 Nov)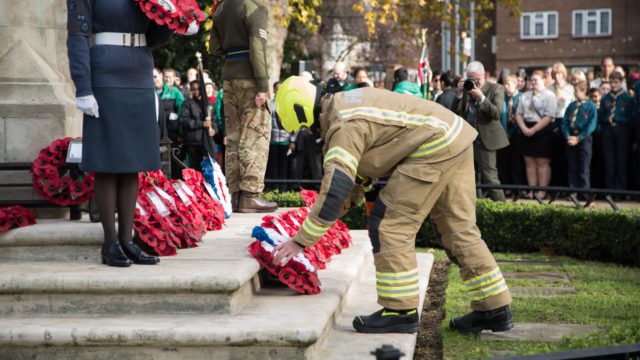 Remembrance Day, also known as Armistice Day, is commemorated every year on and around 11 November. At 11am on 11/11 in 1918, the guns of the Western Front fell silent after more than four years of continuous warfare during the First World War. In many parts of the world, people now observe a two-minute silence at 11am on the Sunday nearest to 11 November, to remember those who lost their lives during the First World War as well as in more recent conflicts. In London, a service and parade usually take place at 11am at the Cenotaph in Whitehall which is also attended by the Queen, as well as politicians and military representatives. You can also expect special commemorative events at the Imperial War Museum London (14 Nov), where you can also find out more about the impact of wars through the museum's extensive collection and exhibitions year-round.
Christmas Lights London by Night Tour, Golden Tours (from 15 Nov)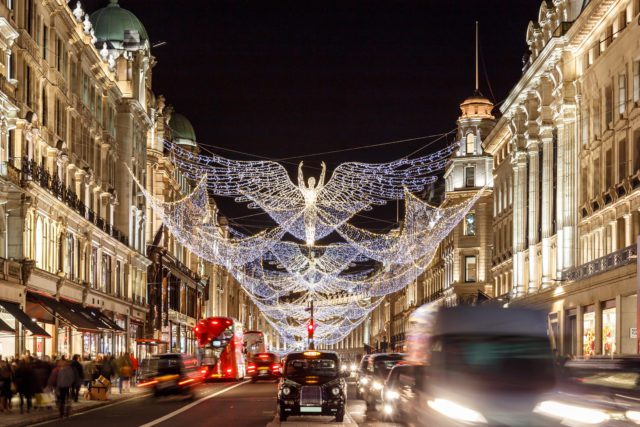 Immerse yourself in London's enchanting Christmas festivities with a dazzling London by Night tour. A visual feast that will fill you with Christmas cheer! Taking you through the heart of the city, you'll get to see London's most iconic landmarks and locations under thousands of sparkling lights. See the world-famous shops on Regent Street adorned with holly and ivy, the bright lights of Piccadilly Circus in all their glory, the incredible giant Christmas tree sparkling in the iconic Trafalgar Square, the historic Marble Arch and Tower Bridge. An entertaining guide will regale you with fascinating facts and stories about London as you pass through streets and past buildings that are packed full of history.
Life of Pi, Wyndham's Theatre (from 15 Nov)
After a cargo ship sinks in the middle of the vast Pacific Ocean, there are five survivors stranded on a lifeboat: a hyena, a zebra, an orangutan, a Royal Bengal tiger, and a sixteen-year-old boy named Pi. Time is against them, nature is harsh, who will survive? Based on one of the most extraordinary and best-loved works of fiction, and featuring breathtaking puppetry and state-of-the-art visuals, Life of Pi is a universally acclaimed, smash-hit adaptation of an epic journey of endurance and hope. At Wyndham's Theatre from 15 November.
Christmas at Kew (from 17 Nov)
View this post on Instagram
Celebrate the most wonderful time of the year at Kew Gardens as the magical winter trail lights up the evening skies for 2021. Enjoy the annual after-dark festivities with family and friends, as you discover sparkling tunnels of light, dancing waterside reflections, and trees drenched in jewel-like colour on your way to the panoramic Palm House light display. Journey through the mesmerising flickering flames in the Fire Garden, spot larger-than-life illuminations and say hello to Father Christmas along the way. Find out more.
Ancient Greeks: Science and Wisdom, Science Museum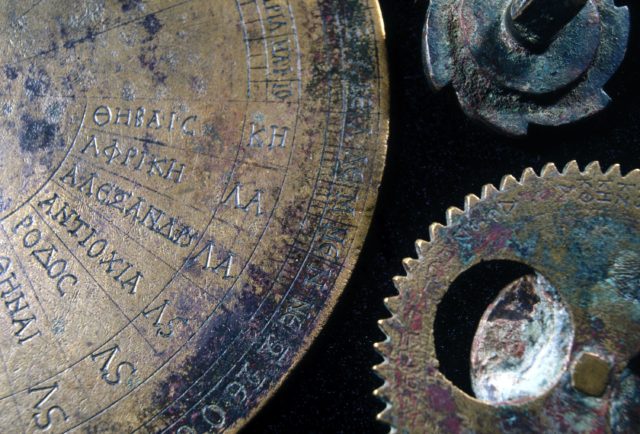 Step back through millennia in the free exhibition and discover how the ancient Greek civilization questioned, contemplated, and debated the natural world. Through the intellectual fusion of the arts, science and religion, ancient Greek thinkers sought to understand the world in a logical and mathematical way. From the stars in the night sky to the multitude of animals in the sea, discover the significance of their insights through iconic sculptures, musical instruments and more. Uncover new knowledge about the ancient Greeks through the latest scientific research and discover objects and artworks steeped in history, brought together in the UK for the first time. Find out more.
Queen's House Ice Rink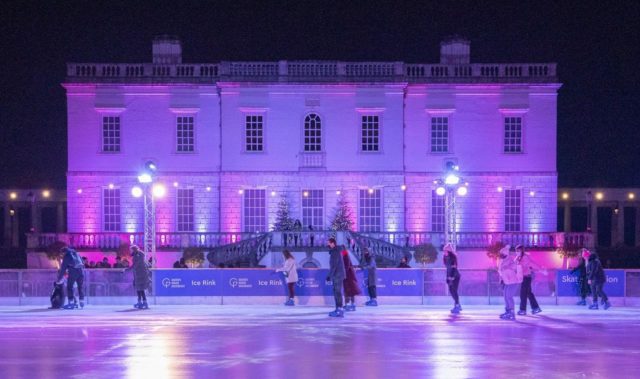 Skate in the shadow of England's finest piece of seventeenth-century Palladian architecture created for a fairytale queen. The Queen's House ice rink is one of London's most captivatingly beautiful. The dramatically landscaped Unesco World Heritage Site is picture-perfect and always looks dazzling. Find out more.
Four Quartets, Harold Pinter Theatre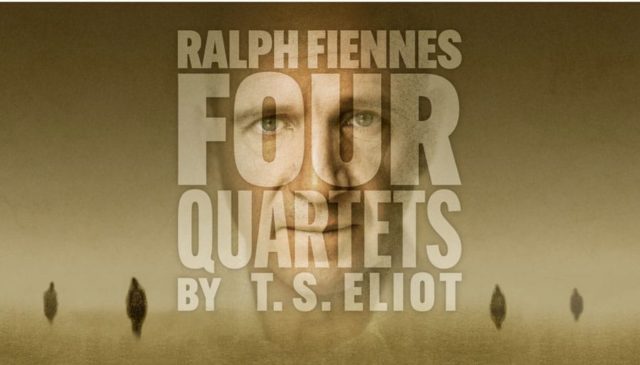 Ralph Fiennes stars in the world premiere stage adaptation of Four Quartets by T.S. Eliot at the Harold Pinter Theatre in a strictly limited run for 36 performances only. This adaptation of T.S. Eliot's final masterpiece offers four interwoven meditations on the nature of time, faith and the quest for spiritual enlightenment. Mostly written during the Second World War when the closure of the playhouses during the Blitz interrupted Eliot's work in theatre, Four Quartets contains some of the most exquisite and unforgettable reflections upon surviving periods of national crisis.
Will Smith at the Savoy (18 Nov)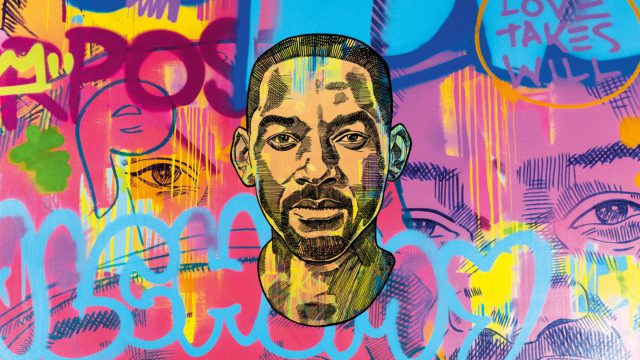 Grammy Award-winning rapper and Academy Award-nominated actor and producer Will Smith will appear at the Savoy Theatre for one night only (18 Nov). His transformation from West Philadelphia kid to one of the biggest rap and film stars in Hollywood history is an epic tale – but it's only half of the story. Part of his tour to support his memoir, Smith will trace his life's learnings in WILL: An Evening of Stories with Friends. Joined by special guests, it will be an unforgettable evening. Tickets include a copy of his memoir, Will.
Evening with the Stars, Royal Observatory (19 & 20 Nov)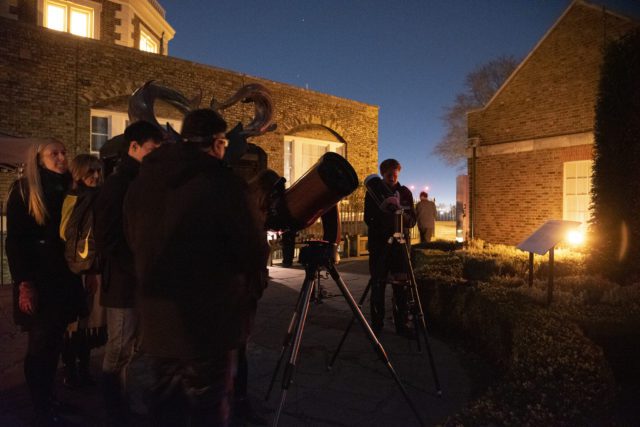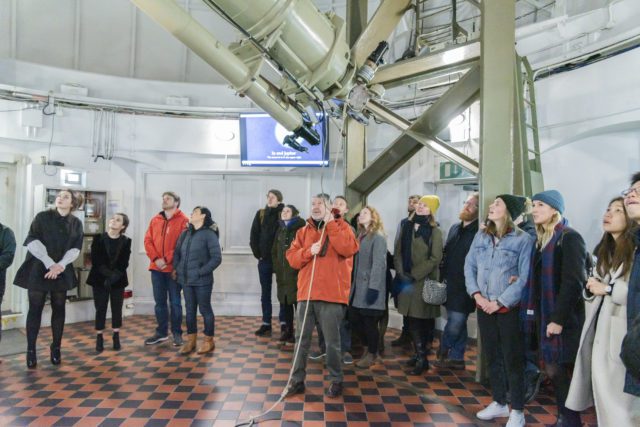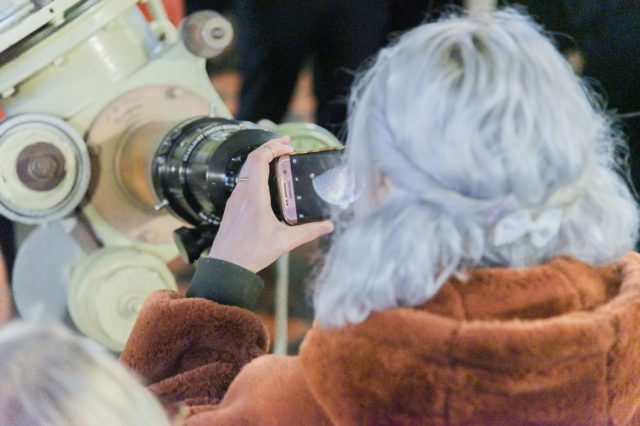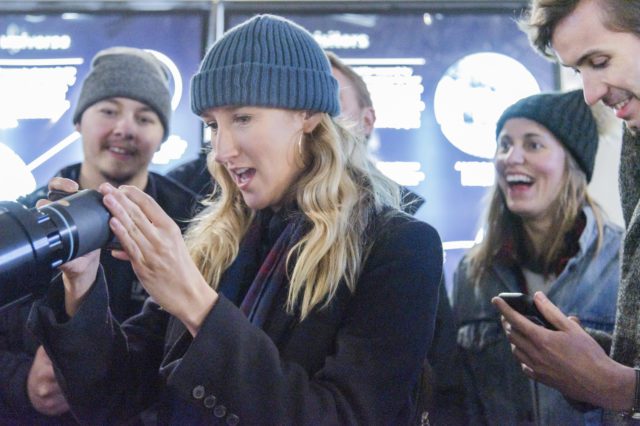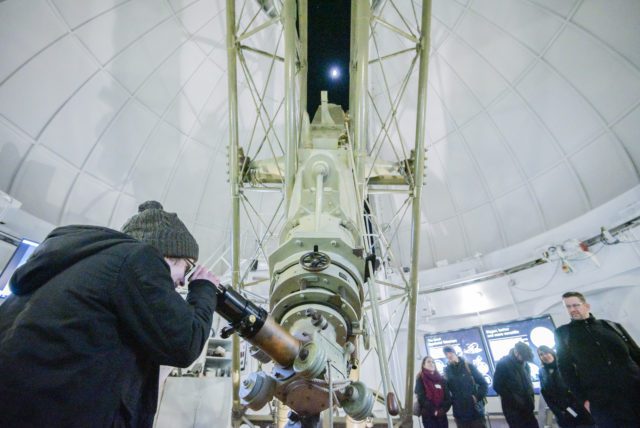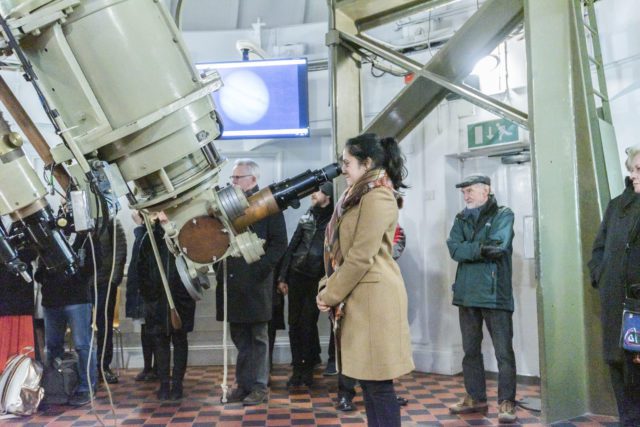 Take a rare chance to take a look through the 130-year old Great Equatorial Telescope in an evening of astronomy. See a live planetarium show before, weather permitting, having a chance to see those sights for yourself. Peer through the modern-day telescopes, and the grand Victorian instrument, the Great Equatorial Telescope. If the weather isn't playing nice, you'll still be able to enjoy talks from astronomers on the history of the site, and have the chance to ask questions about anything in astronomy as you tour some of the most interesting collections.
Christmas at Blenheim Palace (19 Nov-2 Jan)
More than a million lights, lasers and seasonal sounds fill the air with festive fun through Blenheim Palace's picture-perfect gardens. Discover glittering tunnels of light, dancing lakeside reflections and trees drenched in jewel-like colour. Don't forget to catch a glimpse of Father Christmas along the way! New for 2021, the Palace rooms have undergone an exquisite Nutcracker transformation. The fairy tale world features the toymaker's workshop, the glistening Land of Snow and the candy cane Kingdom of Sweets. Plus street food vendors, craft stalls and more at the Christmas market. Have yourself a holly, jolly Christmas…
Hyde Park Winter Wonderland (19 Nov-3 Jan)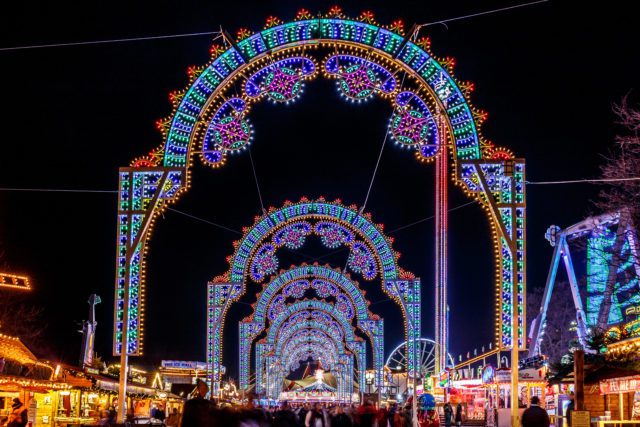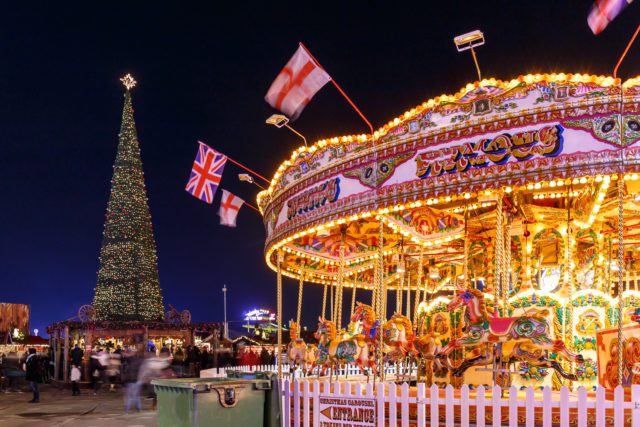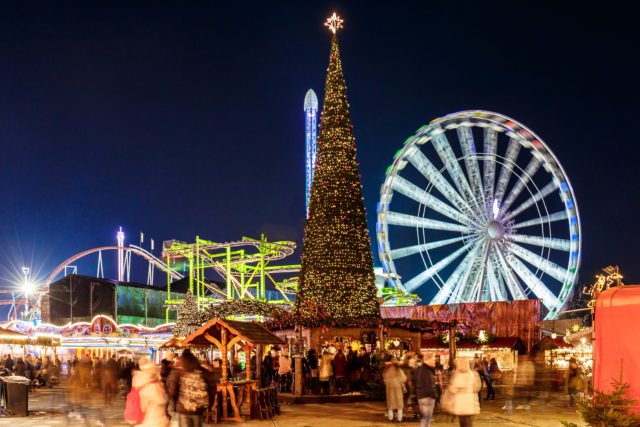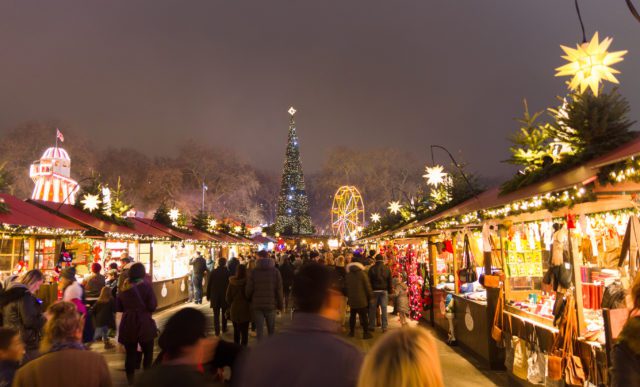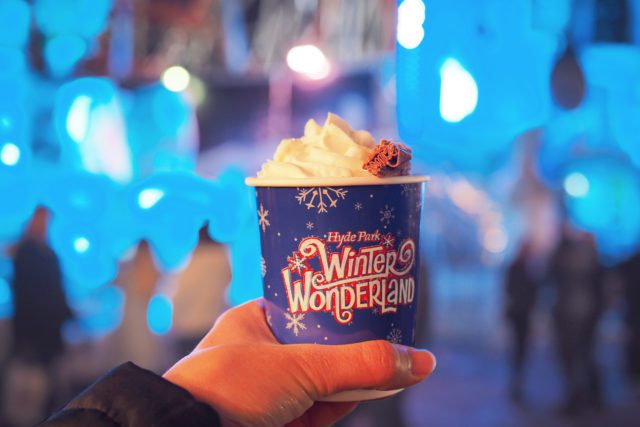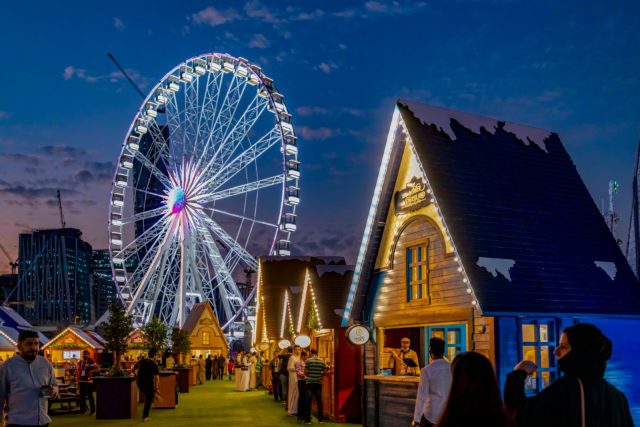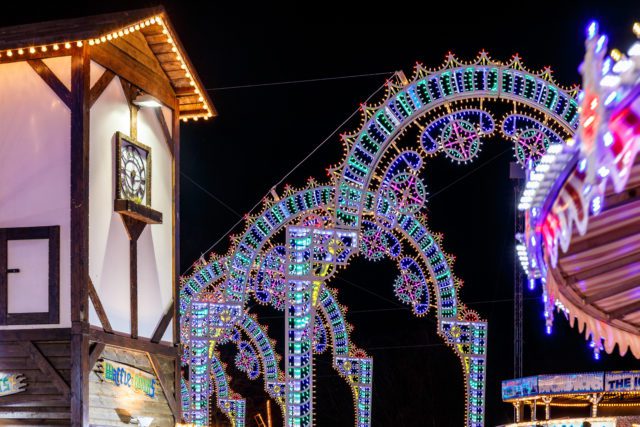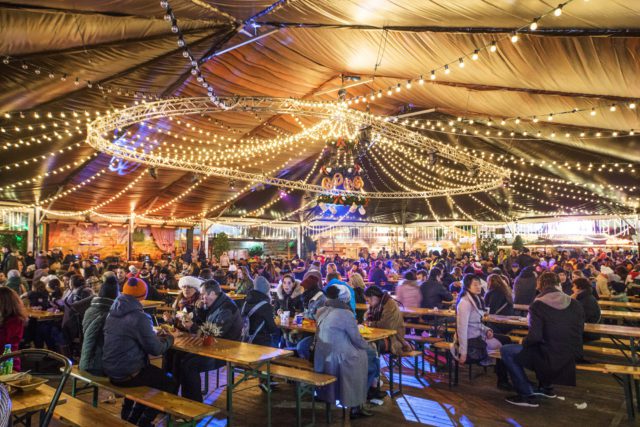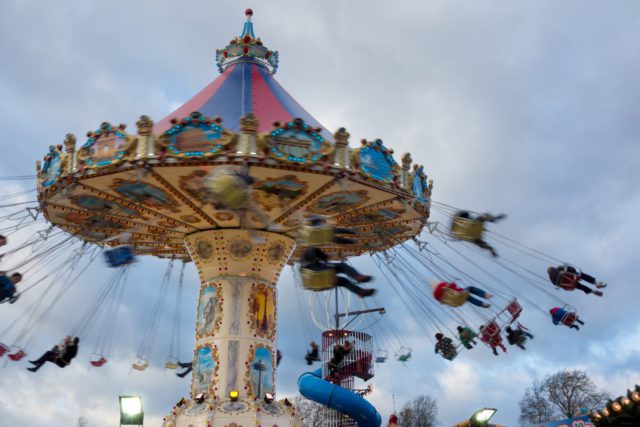 Arguably the home of Christmas in London, Hyde Park Winter Wonderland is the ultimate Christmas destination. Offering a wide variety of attractions, activities, entertainment, food, drinks and so much more, we guarantee there's something for everyone. Mornings are great for families, where you can enjoy Winter Wonderland at a leisurely pace. When the evening comes around, Hyde Park is transformed by thousands of sparkling lights so grab your mulled wine, hot chocolate or stein of Bavarian beer and join in the festive fun.
Christmas Lights, The Classic Tour (from 19 Nov)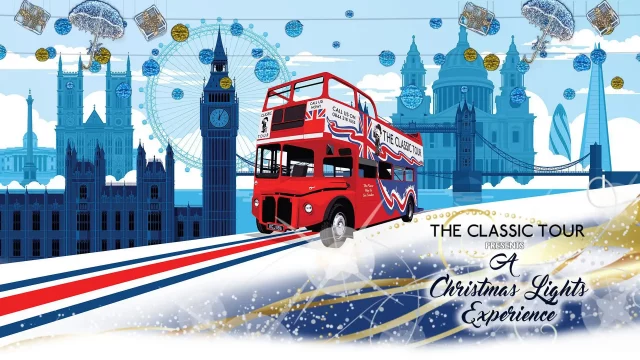 Jump onboard the classic open-top Routemaster bus, decked out in Christmas décor to get you in the festive spirit. Embark on a tour to see London's most iconic Christmas light attractions including the famous Oxford Street, Harrods and Winter Wonderland at Hyde Park. The perfect sightseeing bus tour to do when visiting this winter. Find out more.
Measure for Measure, Shakespeare's Globe (from 19 Nov)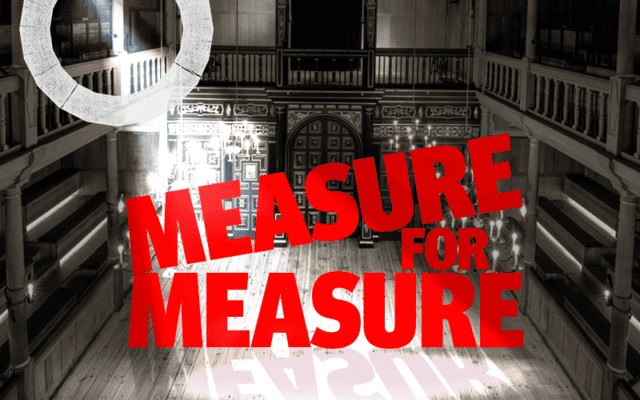 Shakespeare's tale of injustice and inequality comes to light in this powerful and darkly comic new production at Sam Wanamaker Playhouse. When the government starts policing the free expression of sexual desire, Isabel is drawn from the safe space of her convent to rescue her brother from death under the new laws. But his freedom comes at a price: her. What would you be willing to lose in the fight for justice? Find out more.
Twilight Christmas at Hever Castle (11 Nov & from 20 Nov)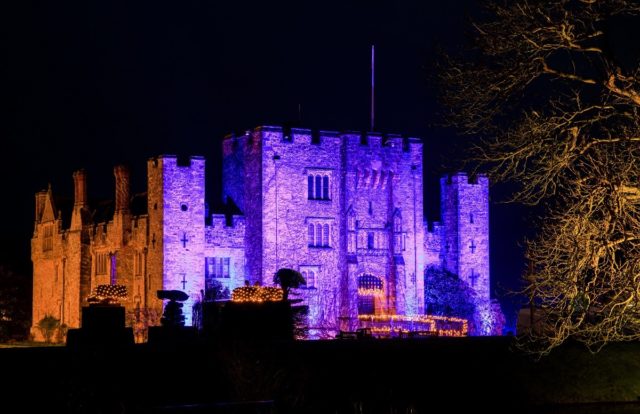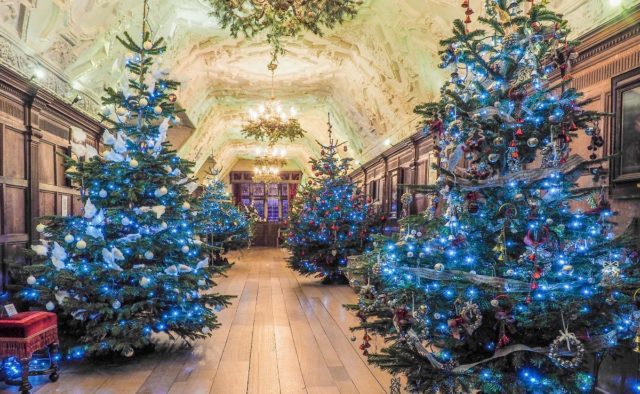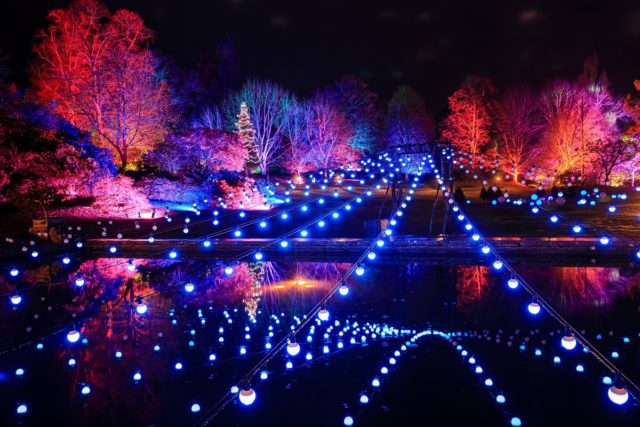 The Hever Castle Christmas Fair (11 Nov) is open for one day only. Find gifts, gadgets, textiles and decorations with all proceeds going to Hever Primary School and St. Peter's Church, Hever. In the gardens (from 20 Nov), the Pinocchio Christmas trail begins in Geppetto's Workshop and winds through the grounds. Spot Jiminy Cricket throughout. In front of the Castle, ride the gallopers then head to the new big wheel at the fairground. On weekends only (until 24 Dec), meet the huskies and take your photo as a memento. As the sun sets, the magical Christmas Light Trail illuminated the gardens and lake with fabulous colours and twinkling lights. This year the light trail will cover new ground, not previously lit before. Meanwhile, in the Castle, you will be met with beautifully traditional decorations, welcoming log fires and twinkling Christmas trees.
Fabergé in London: Romance to Revolution, V&A Museum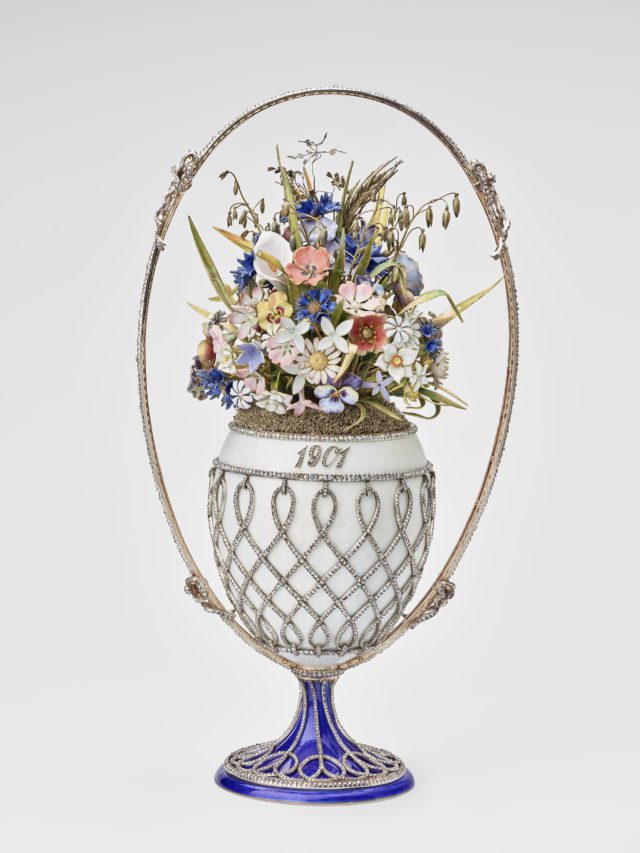 The first major exhibition devoted to the master goldsmith, Carl Fabergé, opens at the V&A Museum on 20 Nov. Fabergé in London: Romance to Revolution will focus on Fabergé's Edwardian high-society clientele and shine a light on his triumphs in Britain as well as the global fascination with the opulence of his creations. Ornate objects including a dazzling aquamarine and diamond tiara will all be on display. Fabergé's legendary Imperial Easter Eggs will appear as the finalé, on display for the first time in the UK.
The Nutcracker by the Royal Ballet at the Royal Opera House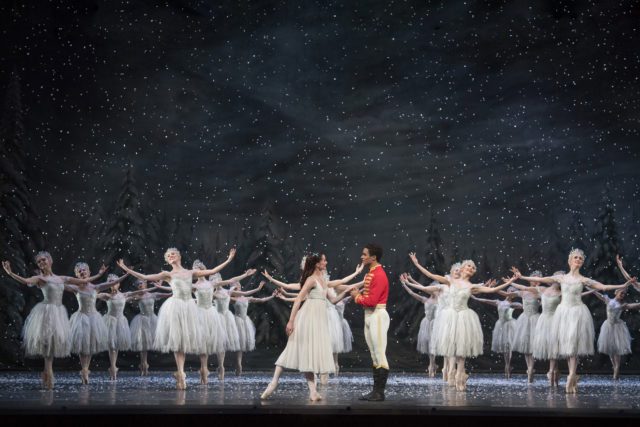 The Nutcracker has long been top of the festive season list and makes for a fantastic treat for the whole family. Tchaikovsky's much-loved score is matched to a story of magic – follow Clara's Christmas Eve journey with the Nutcracker Prince. It doesn't get much better than Peter Wright's gorgeous production for The Royal Ballet at the Royal Opera House in Covent Garden. Keeping the spirit of the Russian ballet classic, the dances showcase the world-class skills of the Company.
Amy: Beyond the Stage, Design Museum (from 26 Nov)
View this post on Instagram
Celebrating one of the 21st century's most iconic and most beloved artists, Amy: Beyond the Stage is the first major retrospective exhibition of Amy Winehouse's life. Unravel the creative process behind Amy's music and discover her early career through recordings and teenage notebooks. Featuring tributes to her influences, including Dinah Washington, Camden, '60s pop, Motown and jazz.​ Explore her performance outfits, handwritten lyrics and personal items that have never been exhibited before, including her blue Daphne Fender Stratocaster guitar.
A Christmas Carol, Alexandra Palace (from 26 Nov)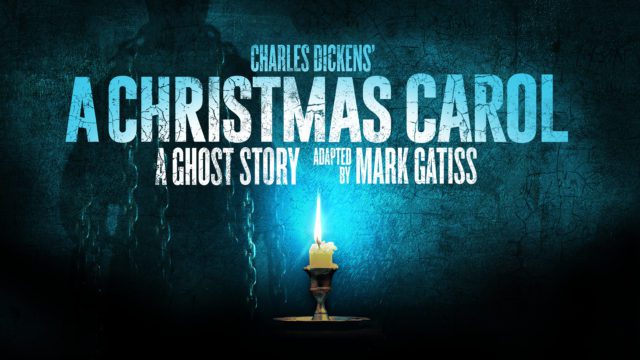 English actor, screenwriter and director, Mark Gatiss (Doctor Who, The League of Gentleman) leads an ensemble cast in his own retelling of the classic winter ghost story. Prepare to be frightened and delighted in equal measure as you enter the supernatural Dickensian world of A Christmas Carol at Alexandra Palace (from 26 Nov), filled with spine-tingling special effects. On Christmas Eve, cantankerous Ebenezer Scrooge is visited by the spirit of his former business partner Jacob Marley. Bound in chains as punishment for a lifetime of greed, Marley explains it isn't too late for Scrooge to change his miserly ways to escape the same fate – but first, he'll have to face three more eerie encounters… Gatiss appears as Marley alongside Nicholas Farrell (Chariots of Fire, The Crown, The Iron Lady) as Scrooge and a stellar cast of stars from stage and screen.
The Child in the Snow, Wilton's Music Hall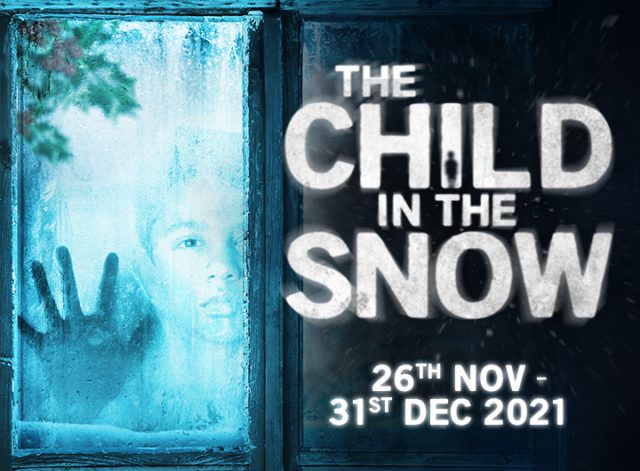 Whatever you do, no matter how much he cries, don't go out in the snow… It's 1918. A nurse, recently back from the front, is haunted by her wartime experience. But when she finds herself at a séance, recalling memories of a childhood Christmas, she unearths a dark secret. Elizabeth Gaskell's famous seasonal ghost story is brought to the stage for the very first time, in a thrilling, frightening and utterly original adaptation at Britain's oldest surviving grand music hall.
Father Christmas Experience, WWT London Wetland Centre (from 27-28 Nov)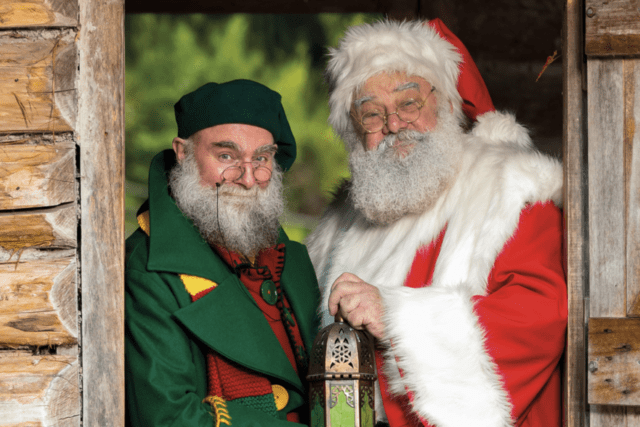 As well as the Illuminature after-dark trail, you can meet Father Christmas and Ken the Grand-Elf in his tranquil wetlands' grotto, where children will receive a special gift. Make some magical memories and spend some precious time in beautiful surroundings with those you love. Wander around the colourful nature reserve and enjoy the fantastic backdrop. Santa's grotto will be open at weekends only: 27 and 28 November and 4 and 5 December.
Christmas at Chartwell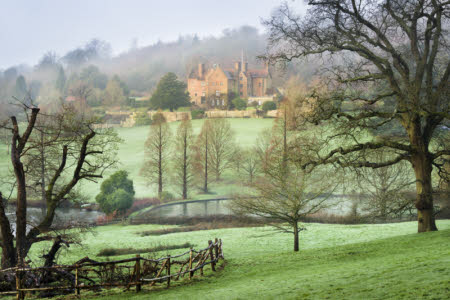 Celebrate a 1940s Christmas in the gardens of Chartwell (from 27 Nov). Explore the gardens of Chartwell this Christmas as you hunt for hidden bottles filled with very special ingredients. Collect the names of all the ingredients hidden in the bottles to learn the recipe for a traditional Christmas treat! The celebrations expand to the house from 4 December.
Christmas at Leeds Castle (from 27 Nov)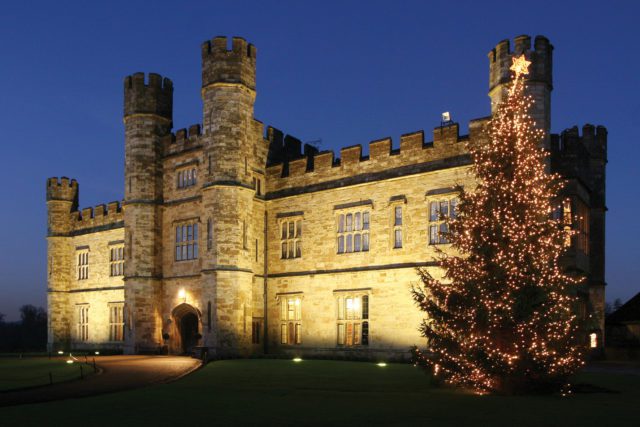 Step into Christmas at Leeds Castle and enjoy wintery woodland walks with nearest and dearest. Wrap up warm to wander through crumpled leaves and spot 12 unique artworks located across the estate. They're all themed around the Twelve Days of Christmas. Walk under the turtle dove arch and admire seven mirrored swans swimming on the Great Lake with your little ones. With many photo moments, interactive elements and sensory experiences, make this Christmas one to remember at Leeds Castle. The Castle itself will be festively dressed with Christmas trees and smaller depictions of the Twelve Days of Christmas.
Christmas at Warwick Castle (from 27 Nov)
View this post on Instagram
Gaze upon glittering trees, wander through a sparkling outdoor light trail and skate across the spectacular open-air ice rink at Warwick Castle this Christmas. Inside, discover Staterooms adorned with twinkling trees, dazzling decorations and festive flourishes. In the Great Hall, marvel at medieval armour, majestic architecture and the renowned 20ft high Christmas tree. Listen to Santa tell charming tales, accompanied by his merry elves (additional ticket required). Outside, climb the towers and ramparts for impressive panoramic views, and explore 64-acres of grounds and gardens. Overhead, birds of prey fly gracefully in an unforgettable demonstration. Brand new for 2021, enjoy extra special yuletide treats and tuck into a Christmas Afternoon Tea, in the Conservatory Tea House.
Magic of Christmas, ZSL London Zoo (from 27 Nov)
ZSL London Zoo delivers on Christmas activities this year. Little ones can join in festive crafts before they Meet Santa in his magical grotto. The Fun Festive Family Trail takes you across the Zoo. Gather information before reporting back to Mrs Claus in the polar post room, sending your trail card to Santa. The animals are counting on you to get them the perfect present! Brand-new this year, the Sensory Sweet Shop will delight visitors of all ages. Clouds of candyfloss, a marshmallow meadow and a forest of candy canes – discover it all.
Last Chance
Dark Arts, Warner Bros. Studio Tour London (until 7 Nov)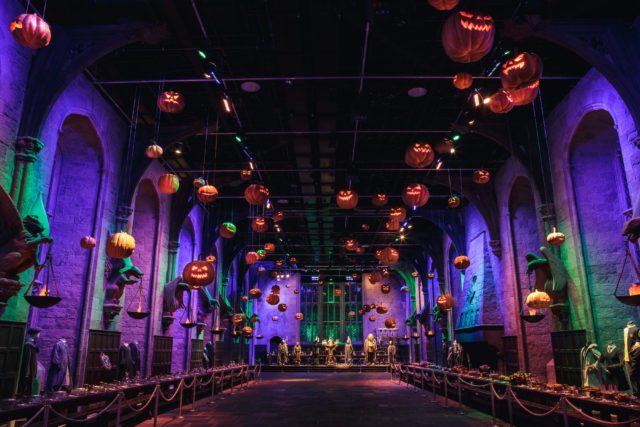 Collect your Studio Tour passport upon arrival and go on the hunt for the Dark Mark. Wander between the trees of the Forbidden Forest and the turrets of the Hogwarts Castle model. The symbol of Lord Voldemort and his Death Eaters is projected throughout the Studio Tour during your visit. You're invited to learn the moves of the famous Battle of Hogwarts scene and practice your spells on Death Eaters. Also returning this year will be the fan-favourite, the 100 floating pumpkins in the Great Hall. Find out more.
The EY Exhibition: The Making of Rodin, Tate Modern (until 21 Nov)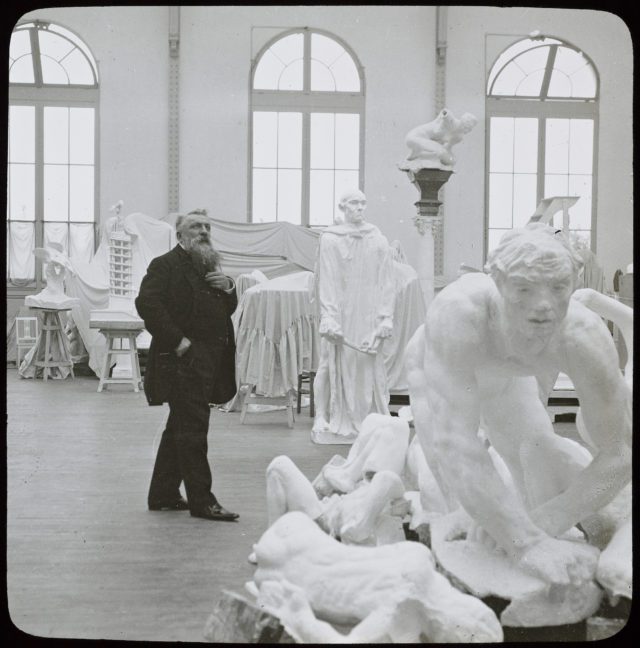 Considered by many to be the founder of modern sculpture, Auguste Rodin is best known for his bronze and marble sculptures. You've probably heard of The Thinker, arguably his most famous artwork. In collaboration with Musée Rodin, Tate Modern has been displaying more than 200 works that have not been seen outside of France before. The EY Exhibition: The Making of Rodin (to 21 Nov) is the first major exhibition to focus on Rodin's use of plaster, which he used along with clay to capture movement, light and volume.
Please like, share and comment below and see if we have anything else to inspire your next visit to London.